Cypermethrin 10 % Solution Vet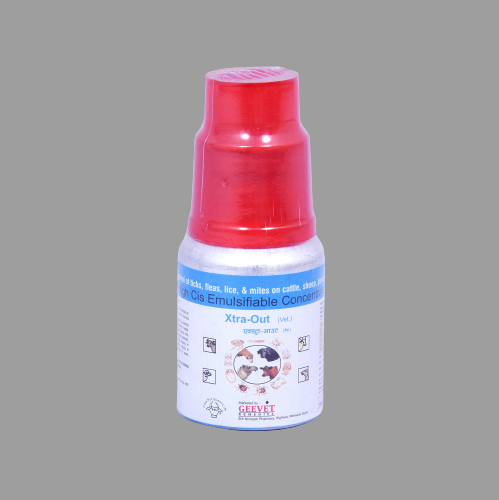 Cypermethrin 10 % Solution Vet
Product Code : 3004
Brand Name : XTRA-OUT Solution
Price And Quantity
Minimum Order Quantity
60 Piece
Price
49 INR/Piece
Cypermethrin 10 % Solution Vet
Indications : For the prevention and control of ectoparasitic infestations likes ticks, mites, lice & fleas in cattle,camel, sheep, goat, horses, and pet animals like dog & farm houses by spray or dip treatment.
Administration :
XTRA-OUT to be used as Spray or Dip treatment.
Directions for Use
Dilution of XTRA-OUT in 1 Litre of water
Cattle / Camels 1 ml / 5ml
Sheep & Goats 1 ml
Dogs 1 ml
Poultry 1 ml / 60 lit
Animal Hsg. - 20 ml / 5 lit
Treatment & Care :
Withdrawl Period : No with holding time for Milk. Pre-slaughter interval for meat for 3 days
Precautions :
Keep XTRAOUT DM Solution out of reach of children, pet and food stuffs. Avoid contact with concentrate and emulsion. Accidental splashes on skin & clothes must be washed with soap& plenty of water. Avoid contact with skin, eyes & swallowing. Avoid breathing spray mist. Wear protective clothing. Do not drink, eat & smoke during treatment. If swallowed induce vomiting, in case of intoxications call a medical veterinary doctor who will treat symptomatically.
Antidote : In case of ingestion, carryout gastric lavage with care to prevent aspration treatment symptomatically. Do not eat drink, smoke during treatment, wash hands thoroughly with soap and cold water.
Storage : Store in a cool, dry and dark place. Keep away from heat and open flame.
Trade Information
Supply Ability
100 Piece Per Day
Delivery Time
1 Week
Behind Nimbark Pharmacy, Near Dudh Sagar Diary Highway,Mehsana - 384002, Gujarat, India
Phone :232232
Mr BHARAT CHAUDHARY (Proprietor)
Mobile :08037744574